Whether your backyard is outfitted with a stunning swim spa or a soothing hot tub, having a quality cover is a must.
Your spa cover has a lot of responsibility, and without the right one for your hot tub or swim spa, you could be looking at costly energy bills, dirty water, or a damaged hot tub!
The fit, style, and overall design of your cover are important factors to consider when purchasing one for your spa.
Not all covers are created alike, and some boast significantly more benefits than others, such as the Covana cover.
Not sure what makes them stand above the rest?
Keep reading! Below, we're going to dive into why these covers have become a highly coveted option for many hot tub and swim spa owners and share four Covana covers that are sure to leave you in awe.
Let's get started!
Traditional Covers vs. Covana Covers – Which One is Better?
Covana covers have redefined what a hot tub cover can be, and they've been taking the hot tub industry by storm.
And for good reason.
Let's explore the pros and cons of each one to find out why.
Traditional Hot Tub Covers
Traditional covers have been the industry standard since the beginning and have become a reliable option for hot tub owners across the world.
Pros
Simple to use
Using a traditional cover is as simple as lifting it off your spa.
With a hinge in the middle, you can even choose to open only one-half of your spa, retaining more heat as you enjoy your jet-powered massage.
When paired with a cover lift support, your cover will be easier to open and close, however, in the winter, you may have to brush off the snow from the top before it's light enough for you to lift.
Affordable
These covers are cost-effective options, making them a good solution for anyone maintaining a strict budget without compromising on quality.
Effective
Traditional covers come in many styles, with some having a more dense foam to increase heat retention.
This is important to be aware of, especially if you live somewhere cold.
The last thing you want is your energy bills to skyrocket once the temperature drops because your cover wasn't designed for the cold.
When you choose the right cover for your climate and ensure it fits snuggly on your hot tub, traditional covers will effectively keep your water clean and maintain your water temperature without long run times.
Cons
Fairly short lifespan
When it comes to lifespan, traditional hot tub covers generally last anywhere from three to five years.
With a hot tub that can last upward of 20 years, you'll need to purchase a few different covers over the years.
Minimal safety features
Traditional covers don't include a locking feature, resulting in you purchasing cover locks to increase the safety they provide.
If you have small children or simply want to deter strangers from using your spa while you're away, locks are a must.
Covana Hot Tub Covers
Covana covers have been rising in popularity, and it's no surprise why once you know a little bit about them.
Pros
Durable
These covers have a completely unique design that's made them one of the most durable options on the market.
Made to withstand the extreme temperatures of a Canadian winter, Covana covers hold up under some impressive conditions.
Effective
Covana covers tightly seal around the edges of your spa and are made with thick insulation.
This maximizes heat retention and ensures energy bills stay low, even as the temperature drops below freezing.
Easy To Use
These covers are fully automatic, taking the work out of opening your spa altogether!
They're the first of their kind, and it's made hot tub use more accessible than ever before.
With a simple turn of a key, your cover will lift itself up, making it easy for anyone to access their spa, no matter the weather.
Maximum Safety
With its automated design, these covers only open when the key is inserted, maximizing the safety they provide.
This ensures pets and kids can't fall in while giving you peace of mind that you won't have any surprise visitors stopping by for a late-night soak!
Multi-Purpose
Because these cover simply lifts upward, they provide added protection and privacy anytime you're in your spa.
They'll protect you and your water from the sun while also ensuring you're out of sight from any multi-story homes nearby.
Long Lasting
Better yet, these covers have a lifespan of 15-20 years, easily matching that of your spa, making them a one-time purchase that'll protect your hot tub for years to come.
Cons
Expensive
The one big downside of Covana covers is that they're much more costly than traditional covers.
While they're more of an investment upfront, with their long lifespan, you won't need to replace them every five years like you would a traditional cover, saving you money in the future.
4 Best Covana Covers in 2023
Covana covers come in four different styles, each with its own unique design and benefits, ensuring it's easy to find one to fit your lifestyle.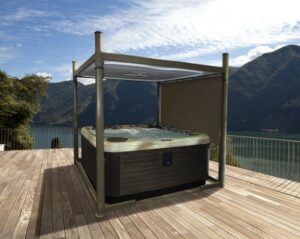 1. Covana Evolution
The Covana Evolution is their standard unit, with four automatic posts and a thick, flat cover that lifts directly upward.
This model can be paired with various privacy screens to enhance your spa sessions and comes in a wide variety of sizes to fit nearly every hot tub size.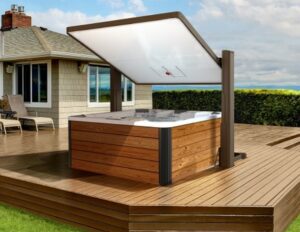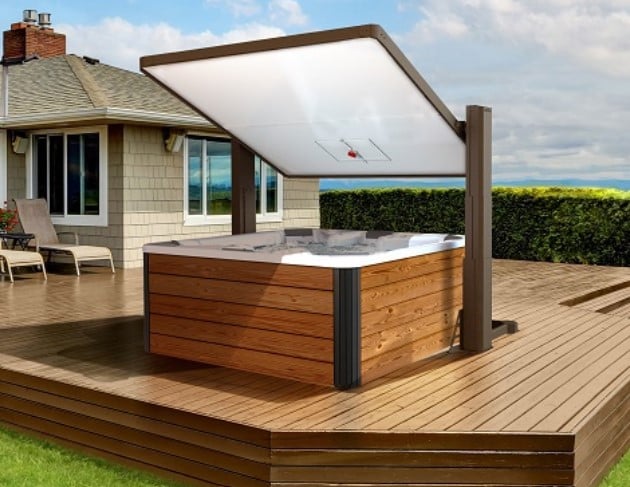 2. Covana Horizon
This cover is a stunning option for anyone wishing for more control over their cover.
With its dual posts and innovative tilt design, the Covana Horizon makes it easy for you to adjust its angle after you've lifted it.
Whether you want to enjoy a soothing soak and need to block out rain or need to adjust for maximum privacy, this cover is the perfect solution.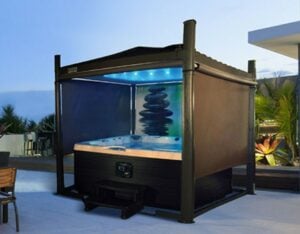 3. Covana Oasis
The Covana Oasis is a complete, all-in-one solution, combining the benefits of an automatic cover with the maximum privacy and protection of a gazebo.
With its peaked roof, snow easily falls off the side, and the retractable screens make it easy to customize your spa to match your privacy needs.
Additionally, the Covana Oasis includes LED lighting that offers seven color options, allowing you to bring your hot tub benefits even further through the use of light therapy.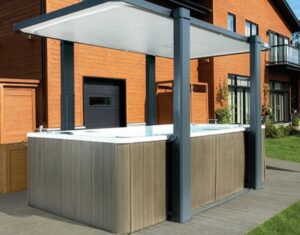 4. Covana Legend
This model has brought all the benefits of Covana hot tub covers to swim spas.
The Covana Legend makes using your swim spa as easy as turning a key while ensuring it's completely protected and secure anytime you're not in the water.
No longer will you need to spend time brushing snow off your cover before rolling it away to enjoy your spa.
Simply put the key in, and watch as your cover lifts away effortlessly, revealing the crystal clear water of your swim spa in just 20 seconds!
Are Covana Covers Worth It?
To put it simply, yes.
From their impressive durability and effectiveness to their ease of use and long life span, these covers are the ultimate option for your hot tub or swim spa.
While they are more expensive, they'll provide unmatched protection for your spa far longer than most traditional covers.
Covana Covers For Sale in New Hampshire
If you're ready to upgrade your cover and embrace all the benefits that come with a Covana Cover, Sundance Spas of New Hampshire is the place to go.
With two convenient locations, our team of experts is ready to help redefine your hot tub experience and make enjoying a luxury soak as easy as turning a key.
To learn more, contact your local showroom, or visit us in person to explore your options in person.
Luxury is right around the corner!